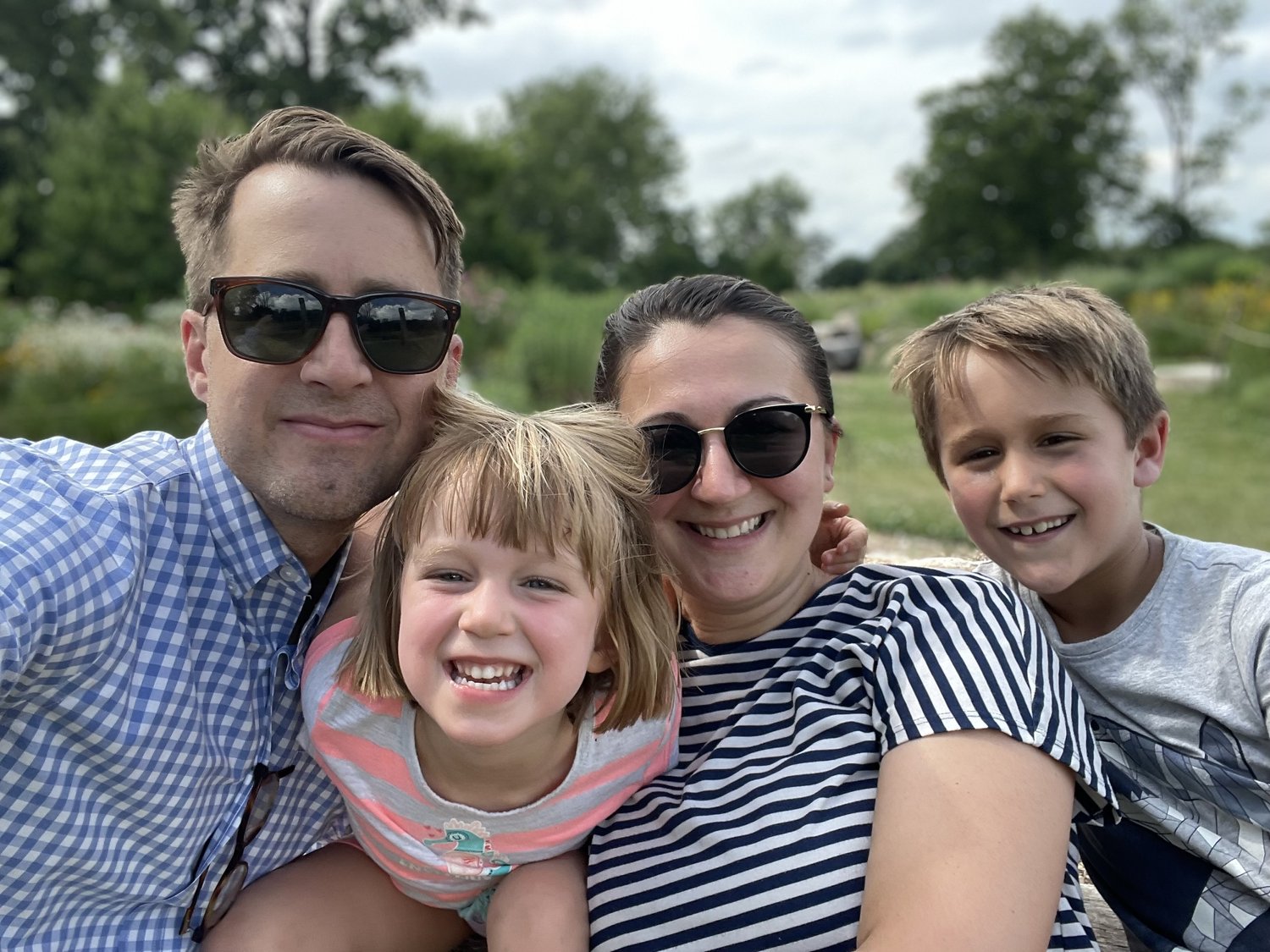 [em]Family selfie in Forest Park's new Anne O'C. Albrecht Nature Playscape. Grateful to all those who made pandemic year two more livable, from caretakers of outdoor spaces like this one to the healthcare workers, educational staff, and local librarians we so depended on. [/em]

Since 2000, I've had a year-end tradition of sharing my cultural highlights of the past 12 months. For this year's post, I'll first note the major life change I had in 2021.

After eight years leading comms and marketing for the nonprofit conservancy Forest Park Forever, I re-entered the agency world this summer by joining The Stoke Group, a fully distributed digital marketing and content studio that focuses on the B2B tech sector.

As the Senior Director of Editorial Content, I spend most of my time on editorial projects for Adobe (a key client, and one that values great writing and design), as well as helping produce the video podcast Real Creative Leadership with its host, Adam Morgan. While I miss the connection to my St. Louis community, I'm enjoying working with strategists, writers, and designers on content work for large global clients. I hadn't worked with clients at this scale or in this specific sector, so it's been broadening in the way I hoped. The team's packed with interesting, talented, upbeat people.

With that 2021 milestone covered, here's a look at some cultural-intake highlights from the year:


Books: Fiction

1. Lanny, Max Porter

2. Second Place, Rachel Cusk

3. Leave the World Behind, Rumaan Alam

4. The Copenhagen Trilogy, Tove Ditlevsen

5. Whereabouts, Jhumpa Lahiri

6. The Morning Star, Karl Ove Knausgaard

7. Beautiful World, Where Are You, Sally Rooney

8. The Sellout, Paul Beatty

9. Tenth of December, George Saunders

10. My Heart, Semezdin Mehmedinović

11. Fox 8, George Saunders

12. The Carrying: Poems, Ada Limon

13. New Teeth, Simon Rich


Books: Non-Fiction

1. Counterpoint: A Memoir of Bach and Mourning, Philip Kennicott

2. The Most Fun Thing: Dispatches from a Skateboard Life, Kyle Beachy

3. Seventy-nine Short Essays on Design, Michael Bierut

4. Suppose a Sentence: Brian Dillon

5. Hannah Wilke: Art for Life's Sake (Eds., Tamara Schenkenberg and Donna Wingate)

6. Three Women, Lisa Taddeo

7. They Can't Kill Us Until They Kill Us, Hanif Abdurraqib

8. The Free World: Art and Thought in the Cold War, Louis Menand

9. Of Human Kindness: What Shakespeare Teaches Us About Empathy, Paula Marantz Cohen

10. Major Labels: A History of Popular Music in Seven Genres, Kelefa Sanneh

11. The Monocle Book of Homes (Monocle)

12. The Innovation Stack: Building an Unbeatable Business One Crazy Idea at a Time, Jim McKelvey

13. Studio Culture Now (Ed. Mark Sinclair)

14. The Chancellor: The Remarkable Odyssey of Angela Merkel, Kati Marton

15. Paul Thomas Anderson: Masterworks, Adam Nayman

16. This Isn't Happening: Radiohead's "Kid A" and the Beginning of the 21st Century, Steven Hyden

17. After the Fall: Being American in the World We've Made, Ben Rhodes

18. Vesper Flights, Helen Macdonald

19. An Ugly Truth: Inside Facebook's Battle for Domination, Sheera Frenkel and Cecilia Kang

20. The Master: The Long Run and Beautiful Game of Roger Federer, Christopher Clarey

21. Proustian Uncertainties, Saul Friedländer

22. Seeing Serena, Gerald Marzorati

23. Graphic Life, Michael Gericke

24. How to Raise an Adult, Julie Lythcott-Haims

25. Self-Reliance, Ralph Waldo Emerson, paired with Twelve New Essays by Jessica Helfand

26. Power Play: Tesla, Elon Musk, and the Bet of the Century, Tim Higgins

27. The Defining Moment: FDR's Hundred Days and the Triumph of Hope, Jonathan Alter

28. No Rules Rules: Netflix and the Culture of Reinvention, Reed Hastings and Erin Meyer

29. Think Again: The Power of Knowing What You Don't Know, Adam Grant

30. Sorry Spock, Emotions Drive Business, Adam W. Morgan

 

Movies

1. The French Dispatch

2. Cold War

3. Certain Women

4. Meek's Cutoff

5. The Power of the Dog

6. Ma Rainey's Black Bottom

7. Let Them All Talk

8. The Farewell

9. To the Wonder

10. Citizenfour

11. In One Breath: Alexander Sokurov's Russian Ark

12. Biggie: I Got A Story to Tell

13. Mies

14. Untold: Breaking Point

15. WeWork: or The Making and Breaking of a $47 Billion Unicorn

 

TV

1. Succession, Season 3

2. The Bureau, Season 1

3. Ted Lasso, Season 2

4. Great British Baking Show, Season 12

5. The Chair 6. Only Murders in the Building

7. The Other Two, Seasons 1 and 2

8. This Is a Robbery: The World's Biggest Art Heist

9. Lupin, Season 1

 

Podcasts
New finds I enjoyed this year: A Change of Brand, Conversations with Tyler, and The CMO Podcast. The Two Month Review's podcast series on William Gaddis's J R delivered a ton of insights and smiles during the first few months of 2021.

Visual Art
This was the second year in a row with little travel (which often prompts new art-viewing) and sadly little museum-going here at home (that's on me). That said, and acknowledging my bias, the exhibition Hannah Wilke: Art for Life's Sake — curated by my wife, Tamara H. Schenkenberg, at the Pulitzer Arts Foundation — gained in richness and meaning every time I saw it. If you're here in St. Louis, I highly encourage a visit before its January 16 close.

Music
A million years ago, my year-end lists included dozens of individual albums and concerts. While music's a daily essential for me, I see almost nothing live and dip in and out of all kinds of new things I learn about, often without good record-keeping.

I usually work listening to classical, then jazz is on in the evening. The only specific new recordings I'd surface this year are the terrific records from Tyler, the Creator, Lucy Dacus, and Julien Baker. Phoebe Bridgers didn't have a new album, but I loved her live Pitchfork Festival set that I happened to catch the evening it streamed.

In terms of new discoveries, there was one artist — and one song — that I'll long connect with 2021: "A Lot's Gonna Change" by Weyes Blood (Natalie Laura Mering). I was introduced to this singer/songwriter through a Spotify station as I drove on an errand of some kind. I was transfixed.

At about 1:20, Mering sings the title phrase — "A lot's gonna change / in your …. life / … time." — and it swallowed me up in the way great song moments do. Likely because my wife and I spend so much of our non-working time focused on raising our young kids and thinking about what their future lives will be like, the line took on all kinds poignancy and significance in the seconds I heard it.





Later on, the second time that part of the song comes around (2:55 in the video above), Mering sings, "'Cause you've got what it takes / in your … life / … time."

Here's to the time we've got ahead of us in 2022.