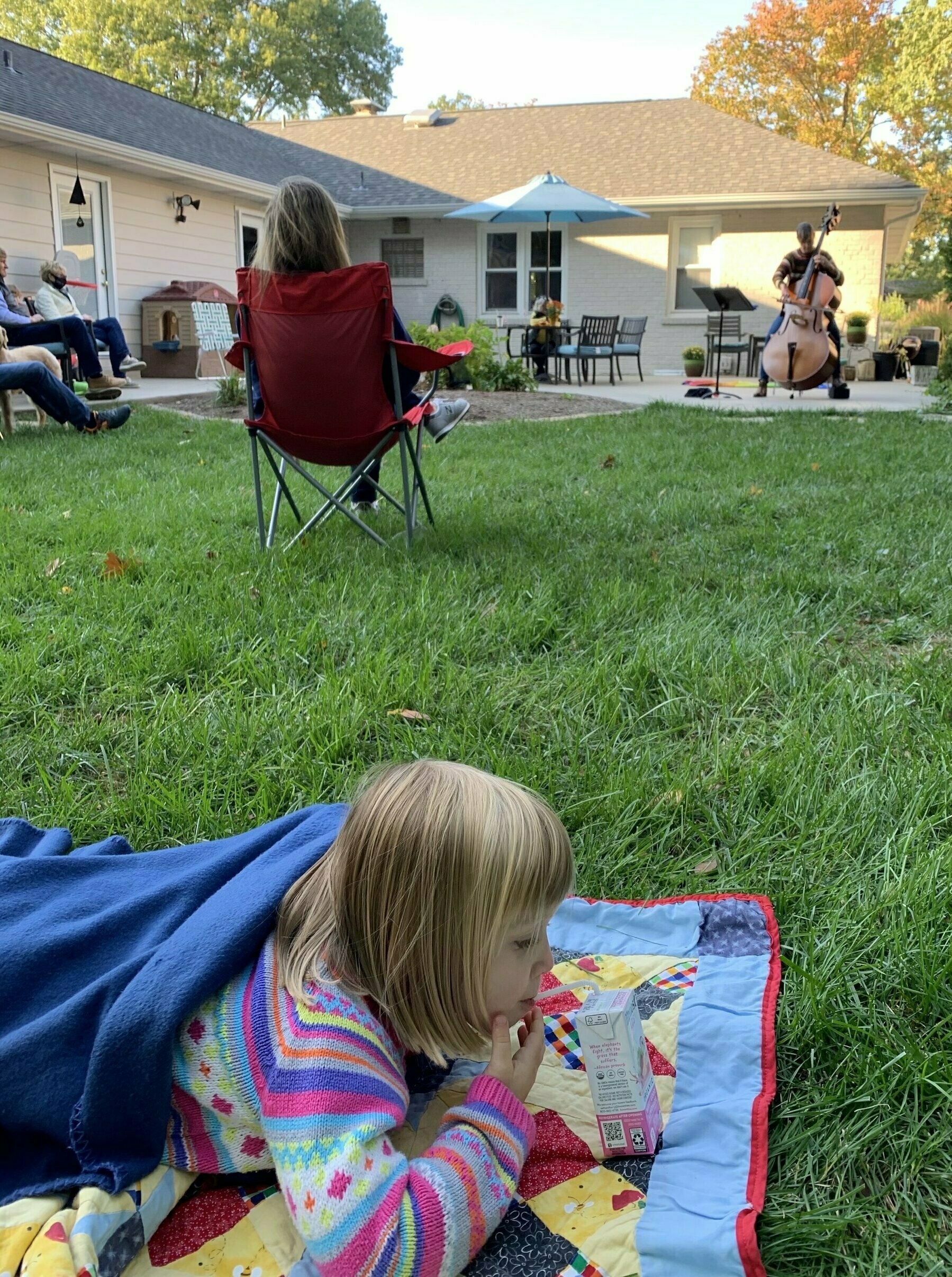 Sylvie, sipping through a backyard quarantine concert by a friend and SLSO musician
Year 20 of my annual cultural-recap tradition was quite something.
Thus far my family's had good fortune amid the global pandemic, so we're spending most of our time feeling grateful, yet exhausted, then grateful, yet exhausted.
With lots of time at home, there was some enjoyable culture to take in. Here's a look at some highlights:
Books
The Source of Self-Regard: Selected Essays, Speeches & Meditations, Toni Morrison
Uncanny Valley: A Memoir, Anna Wiener
Our Man: Richard Holbrooke and the End of the American Century, George Packer
Having and Being Had: Eula Biss
My Parents: An Introduction, Aleksandar Hemon
Minor Feelings: An Asian American Reckoning, Cathy Park Hong
Weather, Jenny Offill
Promised Land, Barack Obama
Then the Fish Swallowed Him, Amir Ahmadi Arian
Jack, Marilyn Robinson
My Life in France, Julia Child
Severance, Ling Ma
Caste: The Origins of Our Discontents, Isabel Wilkerson
Luster, Raven Leilani
Intimations, Zadie Smith
Monocle: How to Make a Nation
The Passion Economy, Adam Davidson
These Fevered Days: Ten Pivotal Moments in the Making of Emily Dickinson, Martha Ackmann
Wine Simple, Aldo Sohm
Normal People, Sally Rooney
The Lying Lives of Adults, Elena Ferrante
Girl, Edna O'Brien
Lurking: How a Person Became a User, Joanne McNeil
How to Be a Family, Dan Kois
Mies van der Rohe, Edith Farnsworth, and the Fight Over a Modernist Masterpiece, Alex Beam
The Secret Lives of Color, Kassia St. Clair
No Filter: The Inside Story of Instagram, Sarah Frier
Go Ahead in the Rain: Notes to A Tribe Called Quest, Hanif Abdurraqub
How to Write One Song, Jeff Tweedy
How Architecture Works, Witold Rybczynski
Dark Mirror: Edward Snowden and the American Surveillance State, Barton Gellman
To Start a War, Robert Draper
The Spy Masters: How the CIA Directors Shape History and the Future, Chris Whipple
Agent Running in the Field, John le Carré
The Monocle Guide to Better Living
Hell and Other Destinations, Madeline Albright
The Ride of a Lifetime, Robert Iger
Bitter Brew, William Knoedelseder
Movies
Portrait of a Lady on Fire (exquisite, perfect)
Parasite
Booksmart
Marriage Story
Little Women
Uncut Gems
1917
Meyerowitz Stories: New & Collected
The Irishman
The Trip to Greece
Palm Springs
Rams
Knives Out
The Other Guys
Maggie's Plan
Shoplifters
Spider-Man: Into the Spider-Verse
The Price of Everything
Ford v. Ferrari
Despicable Me
TV Shows
Better Call Saul, Seasons 4 and 5
Atlanta, Seasons 1 and 2
Schitt's Creek, All Seasons
Never Have I Ever
Call My Agent, Season 1
Roadkill
Devs
Great British Bake-Off, Season 6 and 8
Ted Lasso
Visual Art
I can't recall a year when I saw less art — whether here in St. Louis or in cities we didn't travel to. With that unfortunate reality, I'm especially grateful to have been able to see the fantastic exhibition "Terry Adkins: Resounding" at the Pulitzer this summer.
Podcasts
Favorite new discoveries: The Modern House Podcast, Distributed, with Matt Mullenweg, Siegel+Gale Says, and Simplicity Talks. Valuable mood-improver for 2020: Conan O'Brien Needs a Friend.
Music
My Spotify's a shared-with-kids mess, and for loads of weekly hours I stream jazz and classical music that I don't make a note of to be recalled. That said, I did especially enjoy new records from Fiona Apple, Phoebe Bridgers, Adrianne Lenker, Jeff Tweedy, Lomelda, Bob Dylan, Run the Jewels, and Freddie Gibbs & The Alchemist. I'm grateful to have been turned on to the music of Big Thief, Harold Budd (via the e-newsletter Flow State), Eleanor Bindman, and Haley Heynderickx, whose "Oom Sha La La" always brightened our family's quarantine, with the kids screaming and jumping along to the swelling refrain, "I need to start a garden!" Here's to what's to come.